In Inbound Marketing we talk a lot about buyers' journeys and the path from attracting them, through engaging with them to converting them into leads and then customers. In reality it's not a smooth, linear process at all, there's a lot of experimentation, tweaking, reviewing your performance and perfecting your technique before your marketing efforts pay off. In fact, as we are currently in the second week of the Australian Open, I'm thinking that it's a bit like a game of tennis.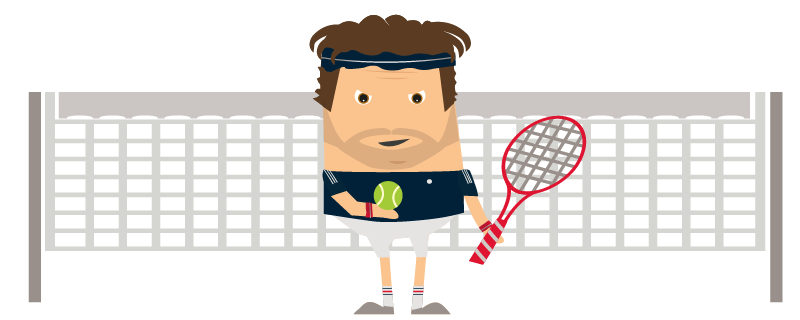 Generating Leads in Real Life
A real life route towards acquiring a new lead might go something like this:
First Serve - Send a tweet - Nobody sees it - Fault
Second Serve - Try again at different time of day - It gets seen and clicked on. You get some traffic including Ms Ideal Customer (Ms IC for short).
15 - 0
Serve again - Optimise your web pages but they are not ranking in Google.
15 all
Next Point - You start blogging regularly - Long rally - and a winner! - Your website moves up in the search engines and gets more traffic. Ms IC sees it when she is looking for help with a problem.
30 - 15
However, nothing happens after that, no enquiries at all.
30 all
Serve - You create a really compelling e-book and put a Call To Action on your blog. It's just what Ms IC needs, so she fills in your enquiry form and downloads it and becomes a lead. Ace!
40 - 30
Serve again - You send a follow-up email - She's away at a conference and she doesn't open it.
Deuce
Next point - You send a second follow up email and she clicks on it... Backhand winner down the line!
Advantage Server
Double fault - She doesn't ask for a meeting or that free consultation call you are offering.
Deuce
Serve, return, sneaky little drop shot - You see from your monitoring software that she has been back on your website look at more information and pricing, so you decide to give her a call.
Advantage Server
Serve - in - long rally as you go backwards and forwards arranging a meeting. Finally you come to the net and hit a winning smash as you fix a date to see her.
GAME!
Now you have a qualified lead, then next step is persuading her to become a customer... that's another game altogether.
Review Your Performance
As you see from that example, launching your website is only the start. There's a lot of tweaking, experimentation and testing involved to help you perfect your technique. Like tennis, inbound marketing is a combination of skill, strategy, tactics, mental agility and sheer hard work - not to mention a little bit of luck.
Now back to the Australian Open... with Murray and Djokovic out, is it Federer's this year?