Okay, so I'm on Lochnagar again, simply because I like coming up here. Today, as you can see in the video, visibility is just about zero. So after all the hard work of getting up the mountain, there's nothing to see.
That doesn't mean it hasn't been worthwhile. I've really enjoyed it but going back to our search engine marketing analogy, when you set out to achieve search engine rankings, when you set out to get to the top of Google, to find those customers that you're trying to find, you can't just kind of guess what they might be searching for. Putting in a ton of work and getting to the top of Google without doing the research would be like setting out today with a big camera, to do some landscape photography, without checking the weather. You'd get to the top, and find there's nothing to see.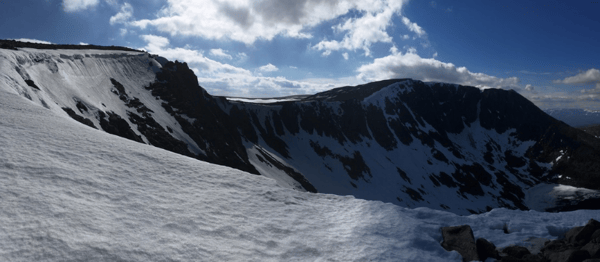 It's the same with search marketing, when you're setting out you need to do the research. Use tools like SEMrush for example or Seedkeywords. Find out what your ideal customers are searching for and make sure that when you get to the top of the search rankings, when you get to the top of your mountain, that people are going to find ya, that you're going to be seen, and that your customers are going to beat a path to your door. Otherwise you know, it's all going to look a bit bleak like today/s mountain top view.
One great way of doing that is using Google Ads, using paid search, because with paid search you can be at the top of page one really easily. As long as you can spend some money on it, you can send people to your website or a landing page. But do it properly, there's loads of great advice out there online, or get somebody to do it for you. But by using paid search, you can test out your keywords. You can get some fantastic keyword data and by doing that you can figure out whether the keywords that you think you should be ranking for are the ones that are going to generate the right kind of traffic and get you the customers that you want.
So, by all means climb a mountain when the weather's not great, as long as you know what you're doing, but don't climb a mountain expecting to see a great view if you haven't checked the weather forecast. If the weather forecast told you you're not going to get a great view because it's going to be snowing, go somewhere else to take some landscape photos. Do it properly, get some advice, call us if you want, but more importantly, think it through. Right, it's quite chilly up here today, so I'm going to beat a path back to the car, see ya.
For help climbing your mountain, give us a call.