A wise man once said "Strategy without tactics is the slowest route to victory. Tactics without strategy is the noise before defeat." This was written 2000 years ago but it's as true today as it was then. A couple of invitations to tender we've been working on this week illustrated it perfectly.
I won't disclose the details of who sent us these requests but they are typical of the documents we get sent most weeks and look something like this.
We need a new website.
We like these sites so make our new site look like these.
You will need to do the SEO because we want to be number 1 in Google™.
Give us your best price.
Things like this fall squarely into the "tactics without strategy" bucket and although there are plenty of web design agencies who will gladly take your money and give you exactly what you've asked for, it won't be what you need. If the last invitation to tender document for a website you sent out looked like this, read on.
Inbound Agencies Take a Different Approach
We're an inbound marketing agency and our approach to projects like the one outlined above is different. Undoubtedly it costs us money taking this different approach, it would be easier to simply smile and do what the invitations to tender ask for, but it's not how we roll. We start with a strategy and this dictates the tactics we'll adopt to deliver what the client really needs. In the above example, we knew what the client needed by reading between the lines of their requests. HINT: It was the "do the SEO" bit.
Do You Want A Pretty Website or Leads?

OK, that's a trick question because you can have both, but if you had to choose, which would it be? Hopefully, your answer is leads because if your business's website isn't there to generate enquiries, what's it for? Now, creating a website that looks great is quite easy. Creating a website that gets found in the search engines, that's hard, to get that right you need a strategy, something most people don't do.
A Strategic Approach Sets You Apart
In business, we all want to differentiate ourselves and steal an advantage over our competitors. A strategic approach to web-based lead generation will do just that because most businesses simply don't do it. Most businesses treat web projects as vanity projects concentrating on the look and feel and putting little or no effort into the lead gen aspects. In fact, "please make sure the SEO is right" is about as sophisticated as most people get.
Here's How To Do It Properly
Using a website for lead generation requires good search engine rankings. There are other sources of traffic, such as social media, but search engines are the biggest and most powerful. Right now it's likely people are using search engines to look for the products and services you supply. These people are currently finding your competitors.
The process of establishing good search rankings, leading to enquiries and new customers, starts by developing an understanding of who your ideal customers are and what they search for. Understanding this makes it possible to put your website in front of them with the right content at the right time.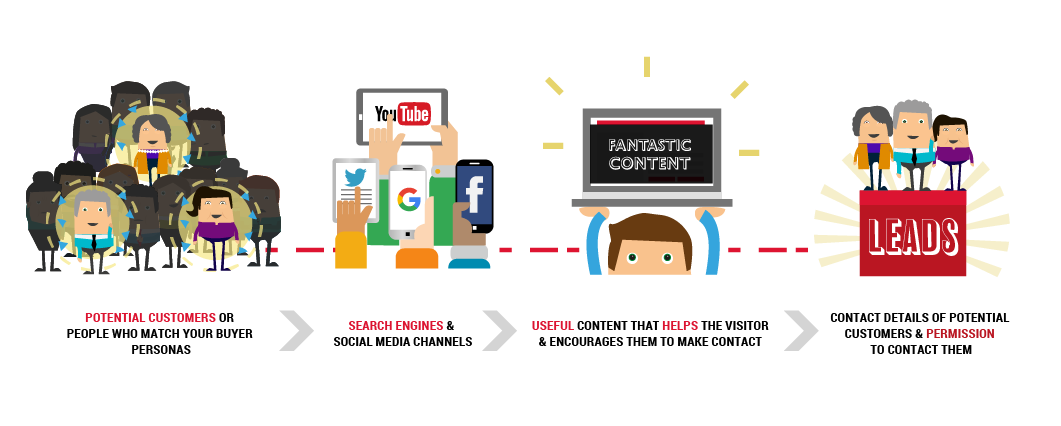 This approach to web-based enquiry generation is known as inbound marketing and its Attract, Convert, Close & Delight philosophy is illustrated below.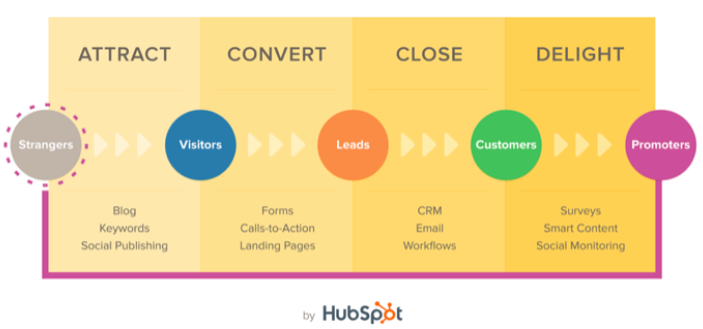 The purpose of your website redevelopment project is to create a website that generates enquiries and positively impacts your bottom line. Everything you do, including design and functionality, must be referenced to this. For every page of content created you need to consider the following.
What is the purpose of this page/widget/download?
For example, a page might be created to rank for a certain search phrase and encourage some sort of interaction such as the completion of a web form.
How will we attract people to this page?
Search engines? Social media channels? Paid search such as Google Adwords?
What do we want visitors to this page to do?
Interact, learn something, share the content?
Creating the look, feel and functionality of your new website is straightforward and there are ready made tools to satisfy pretty much everything your website will need to do. Most companies developing or redeveloping a website concentrate on the easy stuff (design, technical aspects etc) instead of the real challenge of customer acquisition.
If you'd like to get some free help and advice understanding any of the contents of this blog post you can schedule a free 30 minute consulation.