In our industry, webby marketing type stuff, we get lots of emails that start like this. "We wanted to let you know about our lead generation service which gives you access to thousands of clients per year seeking new websites and an average of £35K worth of projects per month." These emails amuse me (I amuse you?). They amuse me because they're offering us low-quality leads and an opportunity to compete with a bunch of lowest common denominator companies, usually for a thirty-bob client. No thanks.
They Add No Value
These organisations exist across most industries so it's likely whatever your business does, you'll get similar emails. Lead generation is big business but we're on a mission to help our clients grow and thrive without these irritating middlemen. In fact, we'd be delighted if these companies packed up and went home - which sadly isn't likely.
If you think about it, these lead generation businesses serve no useful purpose. They claim, like these guys for example, to represent bona fide businesses and are often self-appointed "governing bodies". They do this to make themselves look official, I mean, the Internet & Website Development Regulatory Office? Really? Unsuspecting businesses trundle along, find this official looking organisation - whose members pay to be members - and assume they're getting some sort of government-approved service. This blog sums it up quite nicely.
In general, they don't understand what the people with the requirement want or more importantly need, they don't understand the agencies who deliver the projects and they add precisely no value to the whole process. What they do seem to understand is how to capture people searching in Google; but so could you.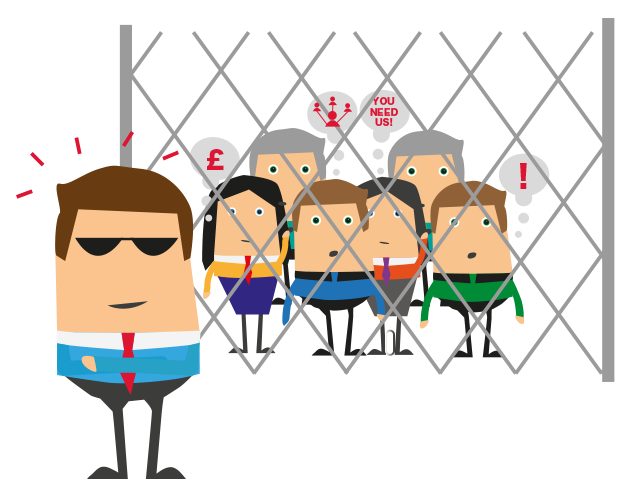 Attract, Engage & Convert Your Own Customers
To start capturing leads you need to start attracting the right visitors to your website, we call this inbound marketing. To do inbound you need to understand who your ideal customers are and this is achieved by carrying out an exercise to develop buyer personas. The guys over at Hubspot have created a great tutorial on how to create the perfect buyer persona, it's worth checking out.
Once you know who you're trying to attract you can put together a content strategy to secure search rankings, based on their needs. This exercise attracts prospects to your website. We've written a great introduction to creating a content strategy you might find useful.
Your content strategy, including understanding the type of content people want such as blogs and videos, is vital because once you've done the attraction, your content needs to engage. It needs to solve people's problems, answer their questions and pursuade them to give you their contact information so you can gently convince them, over time, you're a good potential supplier of the services they're looking for.
To square the circle, when it comes to the conversion part of Attract/Engage/Convert, our tool of choice is Hubspot but there are plenty of other marketing automation tools that will get the job done.
From A Customer's Perspective
Looking at this from a customer's perspective, if we at Red Evolution had to buy our leads what would that say about our ability to help our customers with their lead gen? So perhaps we're a special case and for others, these schemes (and they are schemes), work. But I'm not so sure. To me it just seems like a low-grade desperate way to secure new business, it's impersonal, sort of mechanical, and simply jars with me.
A World of Opportunities Exist Without These Lead Gen Clowns
Google is amazing. Stop for a moment and think about how easy it is today to find what you need. Whether you're sitting with your second screen (smartphone, tablet etc) while watching television and checking if an actor is still alive (we all do it) or carrying out research for a planned purchase, it's truly awesome how far we've come in such a short time.
For businesses the opportunities are limitless and embracing the inbound marketing methodology builds a very wide and deep economic moat around your business. Get this stuff right and you can forget the lead generation middlemen once and for all, get it right and you'll secure all the business leads your business needs now and in the future.