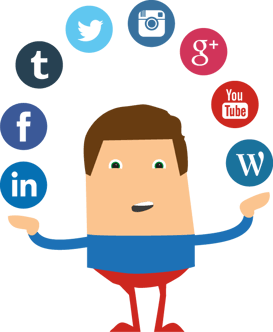 Social media has changed the way that marketers and business owners spend their time and their budgets. However, it is no longer enough just to "do social media".
Marketing and social media are not two separate disciplines. Social networks are just some of the marketing tools at your disposal and they need to be an integrated part of your marketing plan.
You need to think about how best to use social media in marketing your business and achieving your objectives.
What is Social Media Marketing?
Social media marketing is using social media in a strategic way in order to achieve your marketing objectives. Generally marketing objectives will involve various steps along the way to increasing sales. Depending on the channels you use to sell your products or services, your objectives may be to drive traffic to an online shop or encourage people to arrange a sales meeting. Social media is one of the ways of achieving these goals. While you are unlikely to sell directly from social media, it is a very effective way to generate leads.
How do I decide which social media to use?
That is easy. You go where your potential customers are. Use one, or several, channels depending on the habits of your audience. If in doubt, use fewer and use them well rather than trying to do too much and failing to keep up. While you may have your own favourites, make sure that you are using those that are best suited to your audience and not just to you.
How does it generate leads?
Social media marketing works best as part of a planned campaign. Before you start tweeting or pinning, decide what is going to happen next and then work backwards so that every step is in place.
Here's an example:
interesting tip on twitter with a link to a blog post
blog post giving valuable advice on a common question
link to download useful chart/checklist/guidance
request for an email address before they download
follow-up email offering advice
an email offering an introductory meeting
meeting
proposal
discussion
sale
Realistically it may not be quite that easy, but that's the general idea. It may take many tweets, several blog posts and a year of emails, but by following a planned process you help move buyers down the road to a sale at their own pace, without pushing them or making them uncomfortable.
How do I start?
To begin with, write your plan including your objectives, your target audience and the channels you plan to use. Then start creating great content which is helpful and interesting for your potential customers. Finally, use social media to draw attention to your content and drive traffic through to it.