In my last blog post I described the different stages of a customer journey from the moment they first hear about your business to when they become a lead and then an advocate. When it comes to actually producing the content for each of those stages, where do you start?
Let's briefly recap:
Every business will have a number of different buyer personas based on their ideal customers. Each of these buyer personas will have slightly different information needs as they move towards a purchase.
Depending on the type of product or service you provide, your buyer's journey will be more or less lengthy and complex, therefore it is important to understand how it works for your business, and how much nurturing you need to do.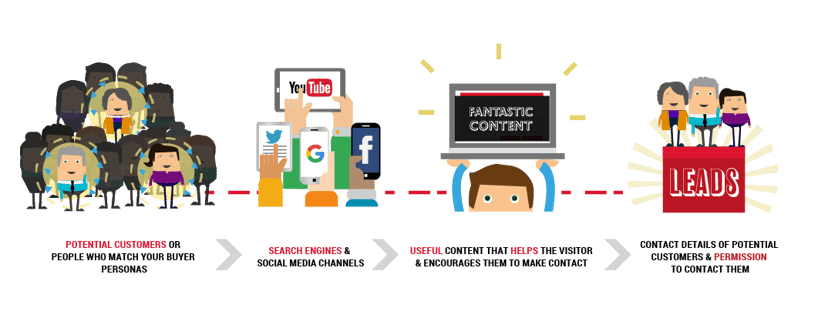 Here's an example of a fairly typical process, loosely based on a couple of content plans we have created for clients recently.
Awareness Stage
Create a new website page or update an existing one to make sure you have plenty of information about the topic with a strong sales message and Call to Action (CTA) to take them to the next step.
Write at least one blog post per week on the topic to help attract search engine traffic and provide helpful content based on the questions that your personas are typing into search engines. These are typically "how to...?" questions. For example, "How do I build an extension on my house?"
Create a checklist or ebook which answers those questions in more detail. This gives you the opportunity to collect contact details so that you can keep in touch.
Post related content to social media frequently, linking to relevant blog posts, offers and pages on website. Use paid adverts to boost traffic to important content.

Interest/Consideration Stage
Create a second offer which helps explain the solutions to the questions being answered in the previous stage. Think of these as "what...?" and "why...?" questions, like "Why do I need an architect?" and "What paperwork do I need?". This could be another e-book, a webinar, podcast or video series where you can provide factual information to help the potential customer work out if this is the right solution for them.
Write a follow up email so that anyone who read your earlier offer gets the opportunity to sign up to this next offer.
Depending on your industry, you may need more than one offer at this stage as there may be several people involved in the process and they may need different types of information.
Decision Stage
Create an offer which

provides the opportunity to evaluate you as a supplier of the preferred solution. Think of this answering "who...?" questions, such as "OK, so I really do need an architect. Who is best for me?". This could be a meeting, a free trial, a demo, a taster session, an audit or assessment.

Write further follow up emails to tell prospects about your offer.
Make sure you have testimonials and case studies available to provide the evidence that you really can do what you promise.
Loyalty Stage
The most important thing to do after someone has become a customer is to keep in touch. This may be very simple if you are providing an ongoing service or a subscription but less obvious if it is an occasional sale. Newsletters, latest blog post notifications and special offers are great ways to remind people that you're still there.
Happy customers are your best sales team and reviews, recommendations and referrals can bring in new customers very cost-effectively. Remember to ask for reviews and testimonials, and think about how you can incentivise customers to tell their friends about you.
Plan Ahead
It sounds like a lot of work, and, to be perfectly honest, it is. It involves careful planning and a thorough understanding of the process even before you start creating content. The plus side is that once it's done it gives you a permanent lead generating asset on your own website, that will grow as you build on it. You can, of course, use an Inbound Marketing agency to help you, or, if you want to do it yourself, make sure you spend time thinking it through before you leap in.