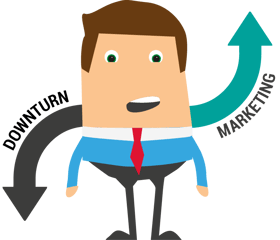 Here in Aberdeen we dodged the worst of the recession in recent years but have now felt the force of the reduction in the oil price and the accompanying budget cuts. One of the first budgets to be slashed is usually the marketing budget, but that is a BIG mistake. Here's why.
Marketing is more than just a few adverts. It is about understanding the needs of your customers and potential customers and fulfilling them at a profit. That sounds pretty important to me, downturn or no downturn.
By all means look carefully at your spend. That makes sense. But don't stop speaking to your customers, and don't disappear off the face of the earth. There are three huge reasons why your should keep on marketing in a downturn.
1. Hold on Tight
Existing customers are also feeling the pinch and their budgets for your products or services are being squeezed. Make sure that they don't dispense with your services by reminding them of the benefits of working with you, focusing on messages about the value and long-term investment. Keep in touch and be helpful; that way it will be much harder for them to justify ditching you.
2. Compete Harder
When times are good, customers just keep on coming, but when the going gets tough... you know the rest! If there is less work to go round, everyone has to work harder to grab a piece. And rest assured, your competitors are having the same conversation, so if you want your share of the market you need to get out there and fight for it.
3. Look Ahead
What happens when the oil price goes up, or the economy rallies? Your potential customers will start increasing their budgets and looking at how to spend them, that's what. You need to be right there, front of mind, the first company they think of when they are ready to spend that lovely dosh. So keep your profile high now and you will reap the benefits later.
How do I make the most of my marketing budget?
You need to look at ways to reach your potential customers for as little money as possible. Your first job is to be really, really clear about who you are trying to reach so that nothing at all is wasted. Once you've done that, find the lowest cost way of reaching them. Building relationships, picking up the phone and being nice cost nothing so be sure to nurture your contacts. And, as a rule, online marketing costs less than other types of media, so that's a good place to start. Check out social media and blogging as a starter and measure everything so that you can see what works best.
More tips in my next blog post. Watch this space!