It's that time of year again. The time when, instead of putting the kettle on to avoid the ads, we are actively searching for them, sharing them and talking about them. They stop being an interruption to the main event, and become the main event in themselves.
Because we are an Inbound Marketing agency we regularly talk about content marketing versus interruption marketing, and usually it's quite clear which is which. If your information is something people are searching for and it educates, entertains and/or engages them, it is valuable content. So when TV adverts fall into the category of valuable content, the lines are very blurred indeed.
However, as a marketer through and through, I enjoy the fact that, for once, I'm not the only person looking forward to the adverts and watching them closely.
What about Buster?
If you know me, you may also know that I love the John Lewis adverts. My favourite is probably the snowmen, or maybe Monty the penguin.
I love the music they use and the fact that they just know how to get their audience right there! Now, there's nothing wrong with Buster the Boxer. It's sweet and funny... but in my opinion it's not one of the greats. Possibly because of the disappointing line at the end, "Gifts that everyone will love", which I found a bit of a let down. I like an advert that shows a deep understanding of their target market, their most important buyer personas, and I'm just not sure that Buster does that.
Good Old Mrs Claus
And that's why I love Mrs Claus. M&S, for years, tried to be all things to all people - a safe strategy on the surface but one that is unlikely to succeed in the long run. But Mrs Claus seems to be the embodiment of their ideal customer, demostrated with warmth, humour and wit. Is there any woman in the M&S target demographic (you know who you are) who can't see herself hopping in her helicopter, outfoxing her husband, saving the day and still being home in time to feed the reindeer? While looking effortlessly elegant and glamorous. Be honest!
What about the Web?
Certainly, M&S is winning the content marketing contest online. Their home page leads with "Meet Mrs Claus" and takes you to an entertaining interview with the lady herself (a very well developed buyer persona).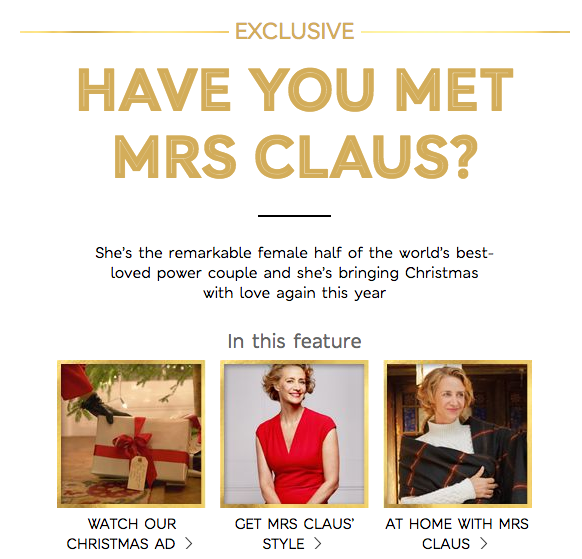 John Lewis has Buster tucked away further down the home page, taking you to a page which focuses around selling (admittedly, very cute) Buster toys.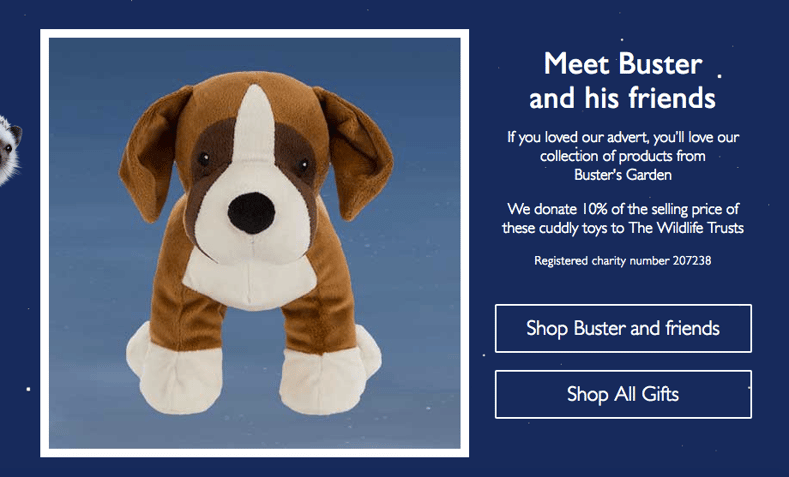 Yes, online and offline, M&S have nailed it this year. Through a deep understanding of their target customers and the guts to focus on them, along with great creativity, they seem to have sleighed the competition (sorry!).
Wait for the Results
Now, only time will tell if M&S, by being brave, and focusing on their core audience, will trump John Lewis's something for everyone message. Ultimately, it's the sound of tills, not sleighbells, ringing that counts.