Content Marketing is about creating and sharing relevant, useful content (media) with the purpose of generating business. However you distribute this content, it must always be valuable and relevant to the person who finds it.
Chitter Chatter!
Content marketing could easily become a noisy activity in your business without ever achieving a single objective or being part of a strategic plan. Certainly, with all the social media channels available, it's possible to shovel content by the boatload into your blogs, tweets, videos, downloads and more!
A strategy creates the framework around which you direct, measure, research and refine all the content work you put so much effort into. Your strategy will include all the things critical to your success - and anything that will detract from success.
Be Unique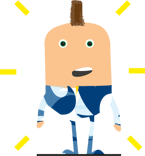 There's no perfect process or system that fits every business. But that's not a problem - it means that when you have a strategy, it'll be yours and yours alone. It will evolve with your business - what it offers, what it wants to say and how it gives its customers the information they need. No one should ever be able to duplicate your message so it makes sense to keep it unique. It's what will drive YOUR communications; your content marketing effort is part of that.
Let's look at a few first steps toward creating your content marketing strategy.
On Message?
Audit your current content. Is it doing what you want it to do? Is it fulfilling the purpose of communicating your business effectively? Anything you produce for content marketing purposes needs to align with the message on your website.
Know What Your Efforts Are For
What is your content going to accomplish for your business? Make sure you know what that is. Be clear. Set goals.
Know Your Audience
You know what your potential customers are searching for because you've done the keyword research (right?) Use this information to guide what you create for your customers. You might want to create some buyer personas to make sure you're targeting the potential customers you most want to attract. Ask yourself what information you can provide to help resolve their most pressing questions or issues. What can you help them do better? What do you know they want to do faster? What do they want more of? Less of? The answers to these questions form the basis of every single piece of content you create.
All The World Loves A Giver!
Distribute and Promote – Offers, Free Downloads, Posts, Tweets and More!
How will you distribute this great content? Video? Blog posts? Podcasts? Something for Free? A good place to start is whatever you're best at; improve on this by knowing where your customers hang out and be there. You don't have to spread your content wide. Simple works just as well. Getting great feedback on your webinars? Do more! If your blogging rocks, get blogging!
Decide Your Content Topics
The scatter-gun approach will fail your business. You've done your keyword research right? This is how you discover your topics. These are the topics your potential customers are most interested in. Feed that interest. Engage.
Don't contribute to the content mediocrity that exists - everything you create should have a purpose.
Plan What You're Doing and Where You're Heading
OK, you hear the word "plan" and you suddenly feel very, very sleepy.... but hey.... wake up! It's important to have a plan. Put pen to paper and document exactly what everyone is doing, what they're creating, when they're creating it and where it's going to be used. Square the circle - everyone in your organisation needs to know how your content strategy integrates with all the other marketing efforts.

Use An Editorial Calendar
Document the content you're going to create and what form it'll take, the target audience and the keywords, who's going to create it - and when. Stick to it!
Are You Going to Measure and Monitor? Analyse? Improve and Refine?
Of course you are! Just make it specific - how many times will you tweet per day? How many new blog posts per week? You measure so you can make connections between what you do, and what happens when you do it. Simple.
Keep Strategising!
Finally, keep that strategy in your sight. It will most certainly need tweaking from time to time. Keep it relevant with an occasional review, improvement and re-alignment where necessary.