When you introduce Inbound Marketing into your business, you will gradually start to see an increase in enquiries and leads coming into your inbox. Increased traffic and leads are the main advantages of inbound marketing but to benefit from them you need a plan and a process.
Inbound marketing
a quick recap
In case you need a reminder, we have written a detailed explanation of Inbound Marketing or go for the brief version: Inbound marketing is a process that helps attract your ideal customers to your website, engage them with useful and relevant content, and nurture them so that they can move towards becoming a loyal customer at a pace that suits them.
---
The Advantages of
inbound marketing

Visibility
The first benefit you will see will be a gradual rise in your position in the search engines. In most cases that means Google, as it receives around 90% of all searches worldwide. As you rise you'll be more visible to people searching for what you do, increasing awareness of your brand amongst the people who actually matter.
In addition, you'll almost certainly be using carefully selected social media to enhance your online presence, further adding to your visibility.
Website Visits
Showing up in search is not an end in itself though. The point of increased visibility is more visits to your website. As a rule of thumb, the higher in the search results you appear, the more visitors you will receive. If Google is doing its job well, when a potential customer searches for the answer to a question, the results that show up provide the most helpful answers in order of relevance and quality. So if your website is near the top and it provides an answer to the question, you'd expect people to click on the result and visit your website.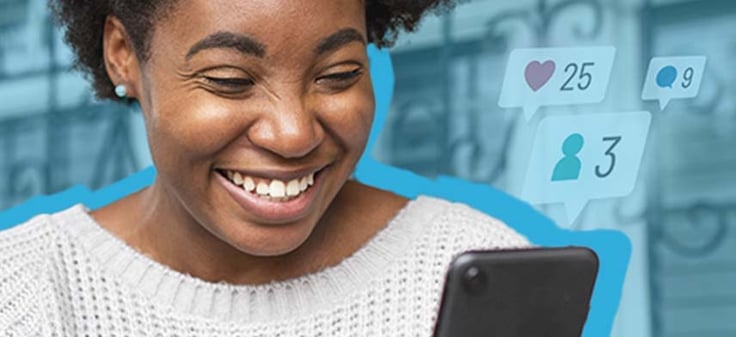 The same goes for social media. The more your posts are seen, the more chances you have for someone to click on the link you share and visit your website.
The crucial point is that the quality of these visitors should be high, because you will have researched your ideal customers and crafted buyer personas that let you create really relevant content that attracts them.
Engaged Visitors
Sorry, but even getting people to your website is not enough. In fact, it's only the start! They've clicked on a link somewhere to get the answer to a question or find a product or service. So, as part of your process, you'll make sure what they are looking for is immediately obvious - with the result that they will stay longer on your site (keeping Google happy as that indicates that they have found what they are looking for) and learn more about your products and services.

By looking at all your website pages with a critical eye, or asking a Conversion Rate Optimisation (CRO) specialist to help you, your landing page is much more likely to achieve its goal.
Educated Prospects
Providing educational content that covers all the different stages of your prospective customer's buying journey, gives website visitors the opportunity to figure out who you are, what you do and how you can help them. Research shows that B2B buyers tend to be 57 - 70% through their buying research before they contact a sales person and 67% of their buying journey is now done online, with the vast majority using online content and articles to influence their decision.
The graphic below shows a variation of a Gartner explanation of how complex a B2B buying journey really is.


Therefore, if your content is easy to find online and provides the sort of information that your prospects need, you are making your sales team's job much easier, by providing them with pre-qualified leads who know already that you can sell them what they need.
Reduce Costs
Clearly, saving money is a massive advantage, especially in a recession when companies are tightening their marketing budgets. HubSpot found that companies that mainly use inbound marketing have a 61% lower cost per lead than those that mainly use outbound marketing.
Improved ROI
If lower costs are not convincing enough, inbound marketing leads also tend to have a higher return on investment (ROI). There is oft-quoted research by Gartner that says that properly executed inbound marketing is 10 times more effective for lead conversion than outbound. So a higher conversion rate at a lower cost per lead ticks all the right boxes if you want to keep your financial director happy.
Increased Trust
By providing genuinely helpful information without an overt sales message, you will make your website feel more trustworthy to visitors. Trust is vital, particularly with considered purchases where the sums of money at stake can be large and the risk of getting it wrong is high. If your content can put prospects at ease and help them trust you, the process of creating a sale will be considerably less difficult.

Another point is that, unlike traditional advertising, you are not interrupting people. TV ads and the like rely on grabbing attention from people when they are doing something else and hoping that something resonates. Inbound marketing waits for people to find it, so it's always relevant as they are actively looking at the time.
Time-Saving Automation
There are many inbound marketing automation systems available including our personal favourite, HubSpot, as well as smaller email-based options like Mailchimp and Sendinblue or more comprehensive (and expensive) services like Marketo and Pardot.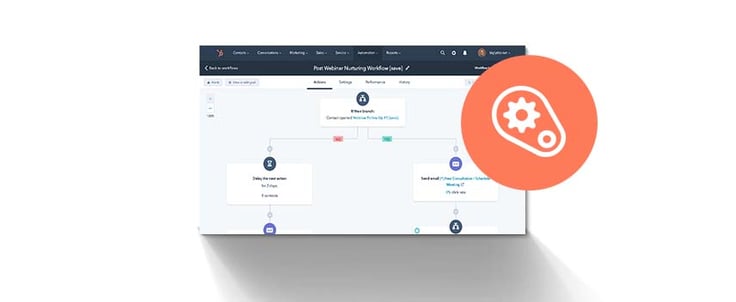 All these systems can be used to nurture your engaged prospects, and, with varying degrees of sophistication, they use workflows to send out relevant content based on the actions your leads have already taken.
The point is that instead of someone in the sales or marketing department having to send individual follow-ups to leads, it all just happens automatically, saving a lot of time along the way, and you know that every potential customer is being nurtured.
Data And Measurement
Inbound marketing and any digital marketing activity has the added benefit of being much more measurable than its offline equivalent. If you use a platform like HubSpot you'll see all the data in one place, but whatever you use there will be data available showing how people found your website, which pages were visited, how long visitors spent there, which buttons they clicked, where they went next, where they exited from - you name it, you can measure it.

With blocking of 3rd party cookies, some data, for example email open rates, may not be as accurate as it once was, but in most cases you can still get a pretty good steer on what the results of a campaign have been.
Data is clearly not an end in itself, but if you use it wisely it can make a huge difference to your results - review it and tweak your content accordingly, or even pivot if you need to.
Longevity
If you're focusing on creating useful content that answers common questions that your prospective customers ask, it's likely to stay relevant for a long time. For example, if you produce an "All you need to know about X" guide, it can be available on your website for years, with probably just a minor annual update required. Blog posts on evergreen topics are similar, they can attract visitors for several years. Compare that with advertising which only exists for as long as you are paying for it. As soon as you stop paying, it's gone, so there is no longevity at all.
Sales & Marketing Collaboration
Inbound marketing blurs the traditional lines between marketing and sales, particularly if you are using a platform like HubSpot. Visitors come to your website and, in some cases engage with your content, and become leads. From there they can be nurtured until they are "sales qualified leads". So the inbound marketing process is feeding the sales team with really warm prospects, who should be easy to convert into customers. Because everyone is using the same CRM, the handoff should be seamless and the sales team will be able to see how the lead got to them, what they looked at and clicked on, to get a really clear idea of what makes them tick.



The marketing team can also help the sales team by providing "bottom of funnel" content like case studies to aid the conversion process.If all the content assets are stored in HubSpot (or a similar system), everyone can select the content that is most relevant to their prospect and send it out easily.
Customer Retention
The inbound marketing methodology doesn't stop when a lead becomes a customer. HubSpot uses the Flywheel model rather than the traditional funnel, because your business can gain momentum when you focus on delivering a remarkable customer experience. By delighting customers, you're encouraging them to become loyal, repeat customers and also to recommend your business to their colleagues and friends.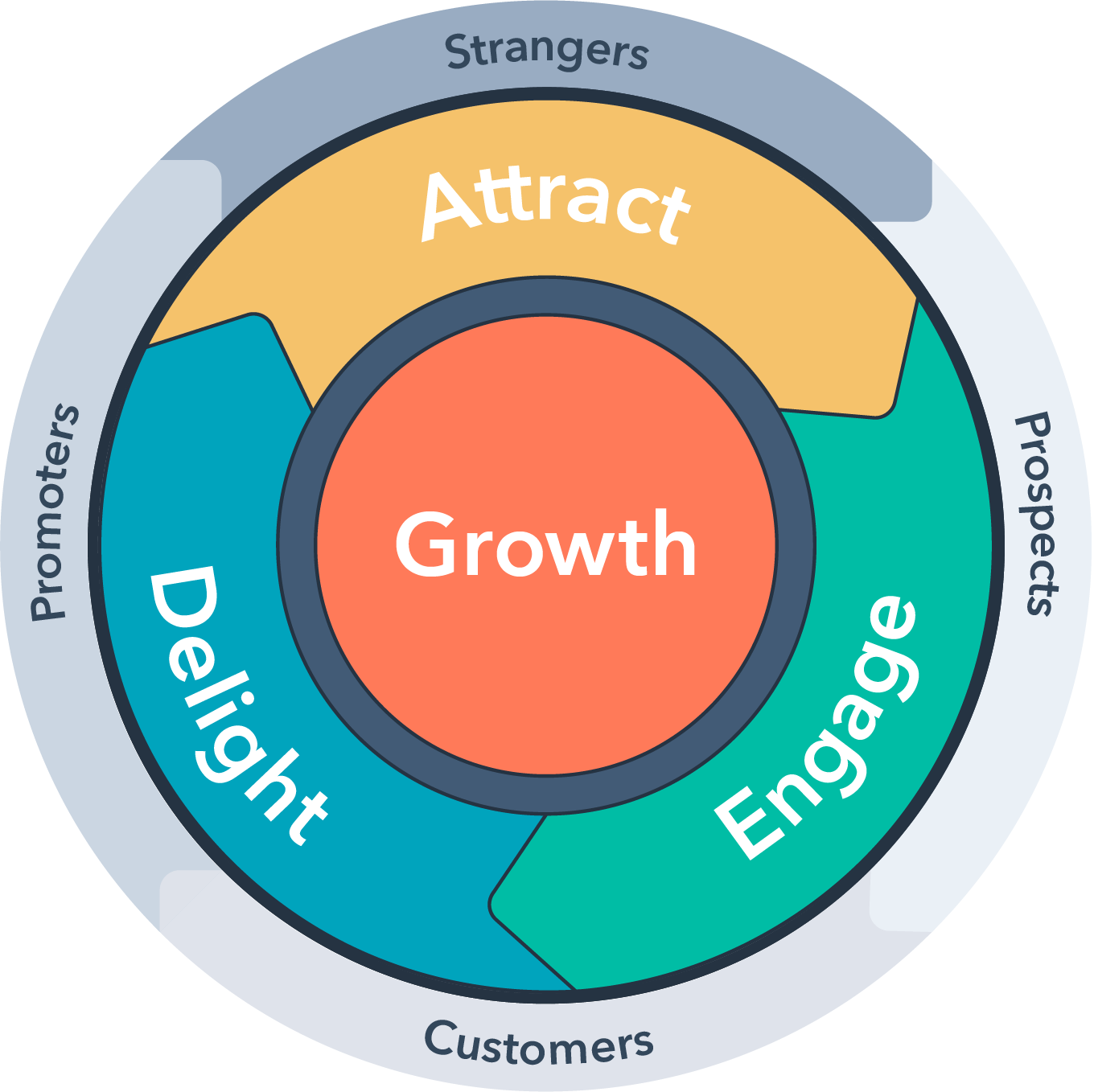 Flywheels work best when the amount of friction in the process is minimised, so using a system to ensure that collaboration between marketing, sales and customer service is seamless will provide the customer with the best possible experience.
It's Strategy First
Because Inbound Marketing is a process, from first generating awareness and attracting attention right through to converting leads to customers, and beyond to encouraging loyalty and referrals, it needs a plan. Random acts of marketing won't work here.
You need to understand your audience, create buyer personas, research the topics and keywords to target at each stage of their journey, create lead magnets and landing pages before you can even start attracting visitors. And because you need to do the planning work first, you have a much better chance of success.
It Can Complement Other Marketing
Just because you are using Inbound marketing, it doesn't stop you from using other marketing tactics. In fact, there is a lot of synergy between different tools. For example, you could use Google or Facebook ads to send traffic to a landing page where visitors can download an ebook and get added to your lead nurturing workflow. Or you could go to an exhibition and gather new leads to pass to your sales team to connect with through relevant content. Your PR efforts could promote an educational blog post or white paper to attract a specific audience. If there's something that works for you, integrate it into the process.
---
How To Benefit

From Inbound Marketing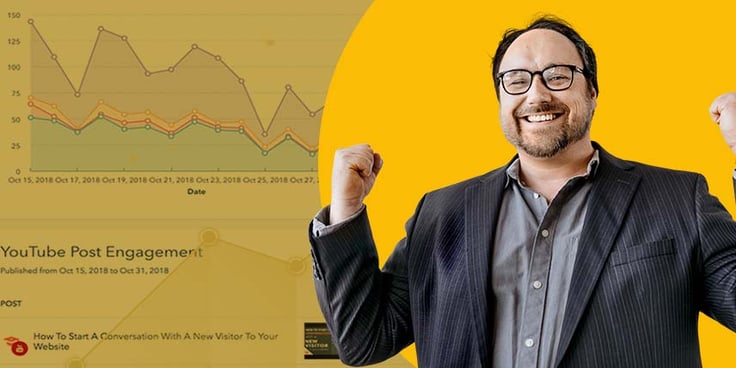 Looking at all the advantages above, there are some very good reasons for using inbound marketing, but there's a lot to think about before you get going. So just how can you benefit from all that good stuff.
Strategy
As we mentioned above, it's a strategic process, so before you do anything else, you need a strategy. The data is out there so use it to make sure you totally understand what people are asking so that you can get your strategy right. That will guide everything else you do. We've got plenty of advice on strategy elsewhere on the website that you can use if you need help.
Plan
Your strategy gives you the overall direction you are going in, and your plan gives you the exact details of what you are going to do when. When it comes to inbound marketing your content calendar should guide your day-to-day activities. It will set down what needs to happen, the deadline and who's doing it, as well as the specific topic and any keywords that you need to target. It's going to look something like this.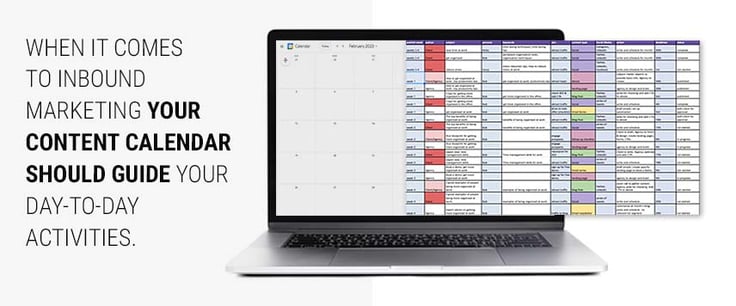 Process
If you want to manage your inbound marketing in-house - and that is totally feasible if you have a decent-sized team - you'll need a robust process to make sure everyone is working together to hit all the deadlines.
We spell out all the different skillsets you need below. It could be that you need to use freelancers, an agency or other external resources to plug any gaps in your team, either in the short term while you recruit or train people, or occasionally when capacity is tight or even on an ongoing basis if that works best for you.
---
hire An INbound
inbound marketing agency
If you don't have a full inbound marketing team in-house (and most companies don't), you'll probably want to hire an agency. They might call themselves a digital marketing agency or a content marketing agency, but the important thing you want to know is what range of skills they have.
In the video, we explain that you'll need to audit the skills you have in-house and figure out where the gaps are. Any inbound marketing campaign will need a strategy, detailed planning, content, SEO, design, web development and social media - plus project management to hold it all together.
A good agency should be able to handle everything for you, or work in partnership, looking after those areas where you have fewer strengths. For example, if you have subject matter experts who can write great content, they should be doing just that, leaving your agency to focus on planning or design or one of the other elements of your campaign.
Use their Experience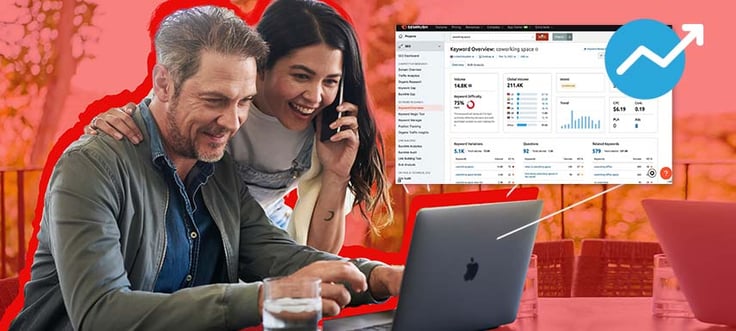 Because your agency will be working on inbound marketing for a number of different clients, and will have been building up knowledge over a number of years, they won't have the same learning curve that your team will. They already know what sort of ideas work best and what doesn't have the same impact. Trust them and learn from them.
On the other hand, your team will have in-depth knowledge of your markets and that is also valuable.
It's a big decision. Take your time and work out what is the best approach for your business. If you'd like to chat it over, we'd be happy to give you our honest opinion.
---
How Do You
Get Started?
If you now have an appetite for using inbound marketing to increase enquiries for your business in a cost-effective way that gives you measurable results (and why wouldn't you?!) there are a few ways to get going. Start with the checklist that you can download below, see how you get on, and if you need help, speak to an inbound marketing agency. One that has helped you already with useful content seems like a good place to begin.