So you've heard about HubSpot's CMS, but you're not 100% sure what it does. Maybe your digital agency told you it was the go-to platform for new web builds – or you heard someone mention how user-friendly it was at a local networking session.

Maybe you've been contacted directly by one of HubSpot's sales reps, or you saw it mentioned on a list of the best CMS systems in 2022. Whatever the case, you probably want a straight-forward, plain English guide that gets you up to speed and helps you to work out whether it's a good fit for your business.
Right so far? If so, you're not alone. A quick look at Google trends shows that searches for HubSpot CMS are at an all-time high right now:
And data from AnswerThePublic suggests that thousands of marketing managers, CTOs and business owners are out there, trying to get the lowdown on the industry's fastest growing CMS. (Source: AnswerThePublic)
Now, we could spend all day pontificating about the reason for Hubspot CMS's growing popularity: looking at the power of HubSpot's own inbound marketing efforts or pointing to the increasingly large number of high-profile brands leveraging the system - but we'd rather focus on bringing you up to speed on the relative merits of the platform, and helping you decide whether it's a good fit for your business.
To that end, we've pulled together a comprehensive run-down of the platform that should tell you everything you'll ever need to know about HubSpot CMS.
---

First Things First
What Is A CMS?


A CMS is a content management system – designed to help you create, manage, edit and publish web content without manually coding pages or mucking about with HTML. Think Wordpress, with its user-friendly dashboards, convenient tools like a dedicated image upload manager, and a word-like text editor that takes the hard work out of formatting your pages.
We use content management systems to build our clients' websites on a daily basis. Our HubSpot developers generally build a set of custom templates for home, category and landing pages, tweak all the geeky back-end code that's responsible for making your CTAs work and then hand over to our marketing team, who are free to dive in and add, edit and publish pages whenever they want.
A website built using a CMS is also relatively easy to update and maintain, costs are generally fixed and you can normally find plugins, widgets or extensions that allow you to add any additional functionality that isn't included 'out of the box' – like the ability to take online payments via a payment gateway or add a calculator to your site.
But this is true of all CMS systems - from Gatsby to Squarespace - and we want to spend this blog post focusing on HubSpot's CMS's unique features and benefits.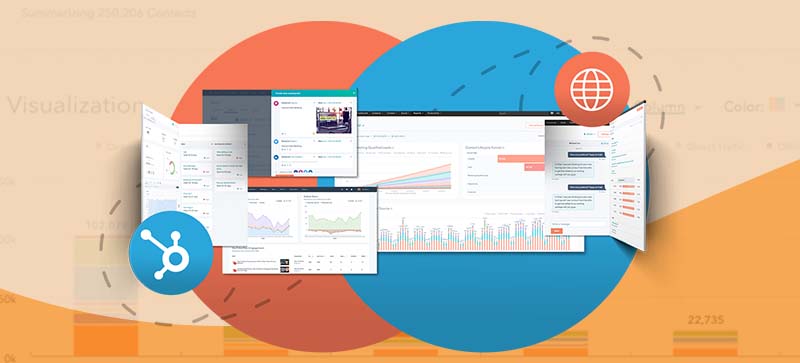 Why Choose
HubSpot CMS?


Truth be told, HubSpot's CMS is a radical departure from competing products. Although it provides much of the same base functionality as Wordpress or Wix, these platforms are stand-alone offerings that focus on content management and have to be cajoled into communicating with the rest of your tech stack.
Straight out of the box, HubsSpot CMS is designed to sync up with the rest of HubSpot's (rapidly-expanding) ecosystem. It plays nice with Marketing Hub, allowing you to add custom CTAs to your new pages, and pass information about visitor engagement and website performance straight to your integrated reporting dashboards – so that you can start building a better understanding of the way your potential leads are interacting with your content.
It also integrates with HubSpot CRM; allowing you to tap into a single, unified database that's packed with detailed information about your customers' web activity. As well as taking the hard work out of tracking when and where someone's entered your website, this sort of all-in-one integration allows you to do all sorts of smart stuff like identifying the web pages most likely to trigger customer drop off, or hone in on the information that's generating consistent conversions.
In short, it gives you visibility over the granular data necessary to make intelligent decisions about your website, irrespective of whether that's deciding to bulk out the info on a landing page, put more email newsletter signups on your blog posts or provide more ready access to content about shipping and delivery information.
It's also worth noting that HubSpot CMS is also the only platform that is designed to integrate directly with HubSpot's Service and Operations Hubs, which means that it makes running and scaling an enterprise-level website much easier than competing CMSs.
But these native integrations are only useful if you're a dedicated HubSpot user and/or intend to leverage several different HubSpot tools. If you're not using HubSpot tools to power your marketing or sales processes, you may be just as well using another, third-party platform like Wordpress or Joomla.
That said, HubSpot is still a very good stand-alone CMS that does have some innate advantages vs. a platform like Wordpress. It's packaged and sold as a SaaS product, which means that you pay a small monthly fee that covers everything from hosting to security updates, new features and regular maintenance instead of having to pay for each of these line items separately – and find one or more agency providers willing to supply them.
HubSpot CMS is also easy to use, with an intuitive drag-and-drop page builder that's designed for marketing people, and a CTA tool that lets you create bespoke forms and buttons in a matter of seconds. It also has a fantastic set of on-page optimisation tools that make it quick and easy for your marketing team to check that things like your viewport meta tags and image alt text are set up correctly.
Divorced from the HubSpot ecosystem, it's still a fantastic CMS that does everything you'd want in an easy-to-use package, and using it to build or update your website means that you'll always have the option of adopting HubSpot's marketing and sales tools further down the line.


Is HubSpot CMS
Fast Enough?


Out of the box, HubSpot CMS is reasonably fast but it does have a few speed-related issues. Independent benchmarking has highlighted some problems with its backend infrastructure (source: Snapt) and it's worth noting that the system doesn't automatically minify or compress JavaScript, CSS or templates.
That said, documentation from HubSpot does show that the boilerplate code is capable of achieving Google Lighthouse scores of 98-100. (Source: HubSpot). In real terms, it should be fast enough for most use cases. But if you're worried about achieving the best possible speed score or intend to load your site up with resource-intensive functionality it's probably worth getting a dedicated HubSpot developer to code your site for you.
They'll be able to make sure you're minimising unnecessary load and streamlining everything for best performance, which is key to making sure your site performs well. It's also worth noting that the overwhelming majority of modern CMSs need tweaking to run quickly so we wouldn't let HubSpot's speed-related niggles deter you from picking the platform.
---

Is HubSpot CMS
Secure Enough?


HubSpot CMS is a cloud-based system that's run on one of the most secure cloud computing platforms in the world (that's AWS or Amazon Web Servers, for those that aren't in the know). HubSpot CMS also uses cutting-edge encryption protocols (TLS 1.3 and AES-256) to secure your customer data and HubSpot carry out regular vulnerability scanning and penetration testing exercises to make sure that their platform is secure.
So yes: It's fair to say that HubSpot is probably one of the most secure CMS platforms available on today's market. This is particularly evident when comparing HubSpot to popular open-source systems like Wordpress, which is routinely hacked and needs to be constantly updated to stay on top of freshly-exposed vulnerabilities.
Choosing HubSpot means that you'll never have to worry about whether your site is secure, or pay a web agency to install security updates. More to the point, you'll never wake up to find that your customer data has been stolen and you don't have any recourse and we think that's well worth the monthly fee.
---

Does HubSpot CMS
Include Hosting?


HubSpot CMS is sold as a SaaS product, which means that subscription fees cover everything from hosting to security patches. According to HubSpot's own website, a basic (£19) subscription covers all of the following:
Premium hosting

Content delivery network (CDN)

Standard SSL certificate

Web application firewall (WAF)

Custom domain security settings

Access to free and paid website themes

Drag-and-drop editor

Local website development

App and asset marketplace

All free tools

Live chat

Forms

Reporting dashboard
To put this into perspective, it's worth considering that the average cost of hosting a Wordpress website sits at £5 - £15 pcm (source: ThemeIsle) and that doesn't include any of the maintenance or monitoring on offer here.
A decent web agency would charge you anywhere between £600 and £1500 to proactively manage and secure a Wordpress website, and most charge an additional fee every time they need to install a security patch or update any of your plugins so it's fair to say that HubSpot CMS's pricing is a real bargain, although the exact cost will depend on your subscription tier (see below).


How Much Does
HubSpot CMS Cost?


As with all HubSpot products, pricing depends on the tier you choose. Monthly fees are listed below:
CMS Hub Starter – £19
CMS Hub Professional – £297
CMS Hub Enterprise – £990
Generally speaking, Starter includes everything you'll need to get a basic B2B website up and running – and Starter subscriptions also allow you to integrate your site with other HubSpot products to improve the efficiency of your marketing and sales operations.
But the Professional tier subscription does come with a lot of extra perks that justify its higher price tag.
First of all, it allows you to personalise your customer experience with smart content features that allow you to automatically modify your pages depending on the ad source somebody has used to navigate to your page, the country they're visiting from or their lifecycle page in your HubSpot CRM, which is a real boon to any marketer who understands the value of personalisation.
Secondly, HubSpot CMS Professional allows you to carry out split tests, create custom reporting dashboards and generate smart content strategies on the fly which is very handy if you're trying to streamline your marketing efforts and don't want to keep leveraging additional 3rd party tools like HotJar or Google Optimize to improve your website.
In short, it's a must-have for anyone who's properly serious about growing their business and doesn't mind the £297 price tag.
Enterprise builds on and improves this feature set further by introducing tools to make coordinating a large team of content specialists easier – and ramps up some of the customisation options but we think these features are probably less important for the majority of brands. Brands like Trello probably make good use of them, but we think it's probably just as easy to grow a website with a Professional licence at this stage.
---

Should I Move To
HubSpot CMS?


The million dollar question. While it's tempting to try for impartiality and say that it very much depends on your business case, we're going to opt for 100% honesty instead. Nine times out of ten, B2B businesses would benefit from migrating to HubSpot.
Vs. an open-source platform like Wordpress, it's safer, easier to use and easier to maintain. The Starter licence is also surprisingly affordable, which makes it a great shout for smaller companies trying to boost their footprint or simplify their tech stack without investing thousands of pounds.
And when you compare the Professional subscription to competing products like Gatsby or Contentful, it has to be said that HubSpot is generally more feature-rich, intelligent and scalable. Not to mention the fact that its incredibly intuitive drag-and-drop interface makes it very easy for non-dev marketing and ops folk to roll out new pages, which means that your internal and external teams will be able to work much more efficiently.
Plus - as mentioned before - buying into HubSpot CMS makes it easier to leverage the incredible tools offered by Marketing Hub and HubSpot's free CRM.
It is important to be objective and weigh up the pros and cons of any potential CMS system but at a certain point, the overwhelming advantages of switching to HubSpot CMS start to interfere with any attempt to appear balanced and unbiased.
It's a smart platform at a good price, and while it won't single-handedly transform your business, it does give you the sturdy foundation needed to deliver some seriously explosive growth. Assuming that you're shopping around for a new CMS and haven't just completed a web build on a competing platform, we'd strongly recommend that you consider migrating to HubSpot CMS Hub.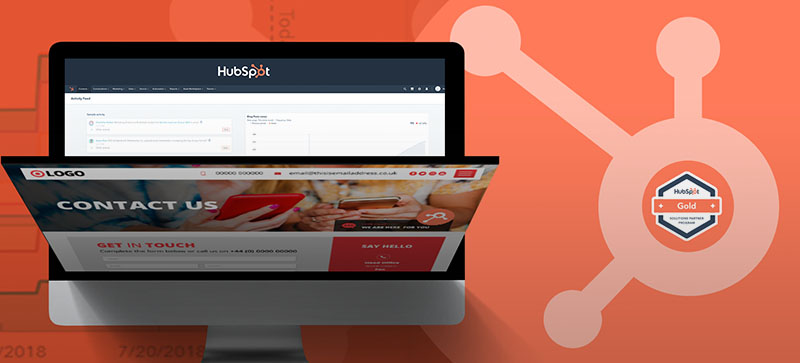 How Do I Move To
HubSpot CMS?


Moving to HubSpot CMS doesn't have to be painful or expensive. If your site is very simple and you have some basic coding knowledge, you can probably build and launch a site yourself using HubSpot's theme and template libraries to create some basic pages.
If you need something slightly more custom (or a fully bespoke web build) you'd be better off talking to a qualified HubSpot development agency. They'll have devs that are trained to use HubL (HubSpot's proprietary template language) and they'll also be familiar with the software – which does make it a lot easier to deliver a fully-functional site that fulfils your brief.
We're one of a handful of UK partner agencies that are capable of delivering large and complex HubSpot builds that are designed to grow your business and ramp up your digital presence so if you are in the market for a new team of dead-clever people, we'd strongly recommend giving us a shout.
That said, we're also the sort of painfully-honest people that feel the need to say you do have other options. HubSpot's own database of partners is a great place to start (filter by website development or website migration), and you could also explore the freelance route if you'd prefer to work one-on-one with a developer that charges slightly less.