Not sure what HubSpot is, how it works or how it's supposed to grow your digital footprint? Find yourself asking the question, what does HubSpot do? You're definitely not alone. The platform may be one of the most popular sales and marketing platforms in the world, but it's surprisingly difficult to find a no-nonsense breakdown of its features, benefits and capabilities.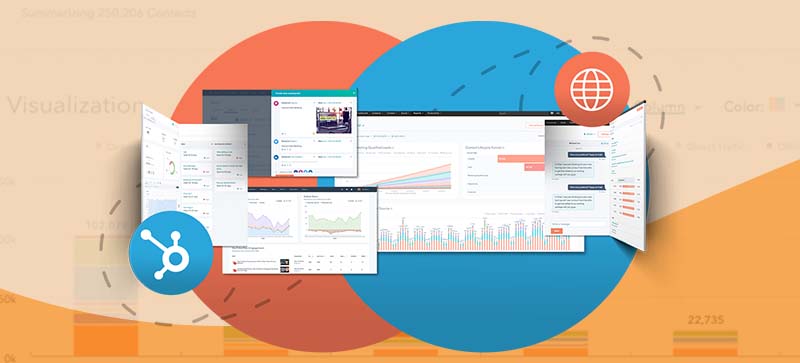 Instead, newcomers are bombarded with opaque buzzwords like "growth-driven design" and "flywheel marketing" that do nothing to reduce the steep learning curve associated with HubSpot's cloud-based ecosystem.
We're a B2B web design agency and we've been using HubSpot for six years now; leveraging its marketing and sales tools to scale our business and break into new markets, so we're ideally placed to provide a plain-English guide to the platform – cutting through the noise and giving you an accessible overview of its various hubs, the CMS and the bolt-ons that confuse so many prospective customers.
And yes, we're HubSpot gold partners but we've built a hard-won reputation for unremitting honesty over the last 20 or so years, and we're not going to throw that away to win brownie points with one of our software providers.
Expect total transparency, and the level of detail needed to make an informed decision about whether the platform's right for your business.
If you prefer to watch and listen, you can see the video version here:
---

What Does HubSpot
Actually Do?


Before we dive into the nitty-gritty, let's take a quick look at what HubSpot aims to provide. The company's own marketing spiel positions HubSpot as a "growth platform" that "helps you build better experiences and grow your business" but that's too buzzwordy for our liking. It doesn't answer the question, what does HubSpot do?
It's probably more accurate (and useful) to say that it's a suite of interconnected sales and marketing tools. It's designed to streamline your processes; automate repetitive tasks and pass mission-critical data between your sales and marketing teams without the need to ping each other with endless spreadsheets.
The ecosystem does have some shortcomings, but a lot of time and effort has gone into engineering a solution that takes care of most common marketing and sales roadblocks, and it's worth noting that the platform is infinitely customisable.
Everything from your automated workflows to your sales pipeline can be tweaked to integrate with pre-existing processes (or 3rd party software) and while it does take time to gain familiarity with the platform's various tools, there's no question that it's a force multiplier that'll help you rapidly scale your online business.
You could combine PPC and social media data, so that you could see clicks, impressions and conversions from both on one screen. Or map social interactions against blog clicks and engagement rates so that you can quickly see which channel is delivering the most value.


---

In English This Time
What Does HubSpot Actually Do?


We dive into each of HubSpot's different sections below, but if you want the nitty gritty, it is based around a really comprehensive and customisable CRM that lets you store an unlimited number of customer contacts. The CRM on is own is actually (and bizarrely) free, but if you want to use it as a marketing tool then you pay by the number of "marketing contacts". It's very easy to get going as you can import your contacts from other CRMs, databases or spreadsheets and you can add custom fields (or properties in HubSpot speak) if you need any that don't already exist.
The other parts then tie into the CRM so that you can run all your digital marketing and sales activities from one place. This enables it to provide fascinating features like showing you all the activity that a contact has carried out on your website, including which pages the started on, which forms they completed and which emails they opened.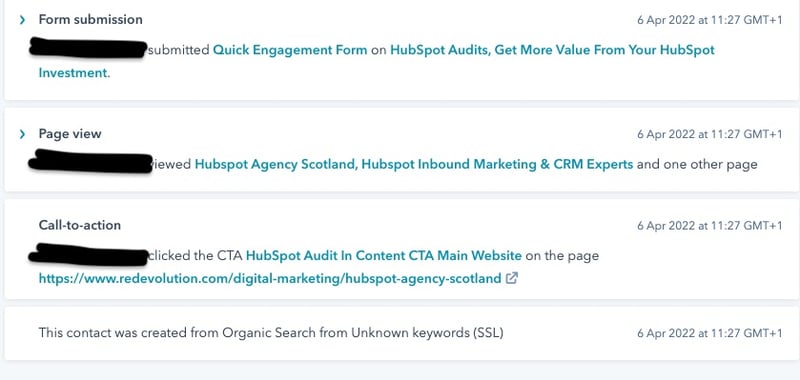 This in-depth data unleashes the real power in HubSpot's marketing tools, the tailored communication. So you can target website visitors with different CTAs depending on what they have already done. And you can set up automated workflows to do all sorts of clever things based on their actions. So if they view a certain page or complete a certain form they receive a different email. More than that though, you can programme it to assign a task to a team member or send an internal message so you really can keep all your comms in one place.
Talking of comms you can also integrate your email inbox, so that all messages to and from a contact are stored in the CRM and take advantage of the Live Chat tool to make it easy for website visitors to get information while they browse.
Another plus is the ability to link all your social media channels and schedule your posts from within HubSpot and also very smoothly integrate your Google, Facebook and LinkedIn ads.
For those applications where there is not a native integration available, you can use Zapier to squirt data to another platform.
---

HubSpot's Platforms
Tools & Features

There are five main components to HubSpot's core offering:
Marketing Hub (marketing and automation tools)
HubSpot CRM (sales and pipeline management tools)
HubSpot CMS (for building HubSpot websites)
Service Hub (for customer support)
Operations Hub
You buy subscriptions to each service separately, but they're all interconnected and you can get free versions of both Marketing Hub and HubSpot CRM so we often see companies using two or three parts of the overall ecosystem in tandem, while neglecting a couple of the options that don't suit their current processes.
We've broken down the features and tools provided by each of the four 'hubs' below:
Marketing Hub
Marketing Hub is probably the most popular part of the HubSpot ecosystem. It's a cloud-based service that looks to bring all of your digital marketing channels under one roof – connecting your PPC advertising, social media and content marketing campaigns to provide better visibility for your team and streamline a lot of day-to-day processes.

We use Marketing Hub extensively. It powers our blog and all the contact forms on our websites and we think it's been key to our success over the past five years, but you're not here to hear about our business. You're here to learn about HubSpot offers so let's take a look at some of the tools that sit under the Marketing Hub umbrella.
•
Social Media
First up, there's the Social tool – designed to let you manage your LinkedIn, Twitter, Instagram and Facebook feeds from one central login. The Social tool lets you schedule posts on a handy calendar, provides detailed reporting on all channels and allows you to quickly see which of your social media accounts are driving visits and leads.
It saves you a lot of time, removes the need for third-party tools like Hootsuite and gives you real, detailed insight into the ROI of your social media campaigns.
It's also tethered to the rest of HubSpot's detailed reporting tools, which means that you can actually see when social media traffic converts on your site – a real boon for any marketing manager that's found themselves justifying their social media spend.
•
PPC Advertising
Next up, we should probably talk about the Ads tool. This is very much the same thing as the social tool but for your PPC advertising on Google Ads, Bing, LinkedIn, Facebook etc. It brings everything in under one roof, and lets you measure and compare the success of various advertising platforms without jumping between platforms.
The Ads tool also goes a step further than a lot of native advertising dashboards by letting you see how many of your clicks turned into genuine conversions.
This is incredibly powerful stuff. Partially because it lets you calculate the real-world ROI of your campaigns, but also because it allows you to see how your advertising conversions behave once they get in touch or place an order. As a marketer, one of my biggest frustrations is always trying to work out which channel drives the most engaged traffic: for example, do organic visitors show more interest because they have actively gone looking for answers, or do visitors from ads engage more because they have a different purpose for their visit?
•
Landing Pages
Creating focused landing pages with one single purpose is best practice when it comes to the destination for your PPC ads. It's easy to create attractive landing page templates which can be used and updated by the marketing team for each new campaign.
•
Calls to Action (CTAs)
Add compelling CTAs or buttons to your content to guide visitors to around your website and encourage them to engage with your content. With smart CTAs you can customise the offer depending on the website visitor's previous actions, so that you show them the most relevant information for their stage of the buying journey.
•
Email Marketing & Marketing Automation
How many times have you had to export your mailing list from your CRM and import it into your email marketing software (Mailchimp etc) then go back and delete the bounces and unsubscribes from your CRM? Imagine if it was all sitting in one system so you can use your CRM to create the lists, send the newsletter and view the results? Enter HubSpot.
What's more you can automate the email follow up to any activity, tailoring the response to the recipient depending on what action they last took, such as watching a video, clicking a link or filling in a form.
•
Dashboards
HubSpot's Dashboards are useful too. As the name implies, Dashboards allow you to create custom reports that pool data from two or more marketing channels, so that you can record start building a clear picture of how your various marketing campaigns are interacting.
Dashboards can also be customised for different members of your team. C-suite types could be given access to a stripped-back and digestible report showcasing the top-level growth stats they need to monitor the health of your website, while your marketing guys are instead presented with more granular dashboards, so that they can diagnose and fix any problems with your PPC or SEO campaigns.
It's all about getting the level of visibility needed to carry out your job effectively, and while there are plenty of competing dashboard and reporting products on the market, we've yet to find one that's as easy to customise or use as HubSpot's native offering.
•
Forms
The last tool that deserves an honourable mention is HubSpot's form builder. In some ways, I think this is the real powerhouse of the Marketing Hub.
It lets you build attractive web forms in a few minutes; it's infinitely customisable which means that you can add fields that are actually relevant to your business and it automatically passes data to HubSpot CRM (if you're using it).
What does this mean? Well, first of all, it means marketing won't have to pass leads to your sales team any more: That whole process is automated by default and 100% seamless with no real scope for human error. It also means that you'll be able to see exactly which form converted a new lead; allowing you to pin-point the most successful areas of your site and start building a proper understanding of what it takes to convert your target audience.
Crucial stuff, in our opinion.
Sales Hub
HubSpot CRM is probably the most impactful part of Sales Hub. Hand on heart, it'll probably transform your business. So many companies store information about prospective clients on a mish-mash of disconnected spreadsheets.
Sales might have a shared spreadsheet that they use to record their contact history with a lead. Marketing will have a separate shared spreadsheet that records the leads generated by your email marketing or your PPC advertising and if your business is anything like ours used to be, your head of business development or will probably have a third spreadsheet that tracks opportunities.

Syncing data between these sheets is always a massive time stealer. It's also the best way to make mistakes; lose contact information or forget to pass an important contact over to the sales guys.
•
Powerful CRM
HubSpot CRM does away with all of that hassle. You get one, centralised database that houses all the info you've gathered about a potential client - from the marketing channel that brought them to the site, to the number of times your sales team have been in touch, the company they work for and contact information like phone numbers and email addresses
There's also space to store custom (centralised and accessible) notes about your leads and - best of all - the whole CRM system is automatically integrated with HubSpot forms, so people who fill out a contact form on your site are automatically dumped into your customer database.
No more missed contacts. No more struggling to get in touch with leads who've been logged with incomplete contact information or faffing around trying to work out how someone reached your site. You can even automatically score leads and pursue different follow up options depending on the potential profitability of the customer.
Instead, you get the top-level visibility and in-depth insights needed to actually connect your sales and marketing operations and we think that this level of detail is absolutely key to scaling a business in the 21st century.
•
Deals Pipeline
The Deals tool deserves a shout out too. Deals lets you create a completely customised sales pipeline that can be configured to match your pre-existing processes. You can add deal stages (contacted, interested, key decision makers brought in etc) and then your sales and marketing teams will be able to move your HubSpot contacts through the pipeline as deals progress.
You'll also get a neat little dashboard that allows you, your head of sales, head of BD and anyone else that wants to peek at your current progress to see exactly how many people you've got moving through your sales pipeline in a couple of seconds (tops).
It might not revolutionise your sales process overnight, but it does provide 360 degree visibility of your sales pipeline which can be incredibly valuable. The screen you see above can also be filtered and refined so that you can view leads by type or owner, progress or likelihood of completing. To make your life even easier, you can set up automated workflows to alert and remind the next person in the process to complete a specific task.
In short, it's powerful stuff that has the potential to save you a lot of time and hassle.
•
Automated Workflows
Workflows is an equally powerful bit of kit, but for very different reasons. This is marketing automation at its finest. A tool that allows you to dump contacts onto a variety of automated email sequences according to the way they behave on your site – or engage with your sales team.
You could use Workflows to send a unique email to everyone who fills out a specific form on your services page, or enroll people who dodge a sales calls on a sequence of 12 emails designed to re-ignite their interest in your company. You could even use it to set up automated emails to people who have gone cold part-way through a deal. It all depends on the needs of your business and it can be 100% customised to suit those needs using a simple drag and drop interface.
Talk about efficiency!

HubSpot CMS
CMS stands for content management system. HubSpot's CMS Hub is a best-in-class offering that's designed to take the pain out of publishing content to your website, building new landing pages or content clusters that are designed to grow your website's digital footprint.

It's mainly used by developers (or savvy marketers) who have a basic understanding of web code but it is possible to build new page templates using drag and drop functionality so you may find yourself diving in there from time to time.
All in all, it's fair to say that HubSpot CMS emulates (and outsrips) competing platforms like Wordpress and it's rapidly becoming one of the most popular platforms for B2B web builds. It's not only popular with developers but it puts web content firmly in the hands of the marketers, with its easy to use interface for editing and adding pages without breaking anything (we've all been there!)
Service Hub
For businesses providing customer support, the service hub provides an easy to use system for raising tickets. It brings all your customer service data together so that everyone has access to the same information, and it massively improves efficiency through automating processes and enabling self-service where appropriate, freeing up customer service teams to do the high value jobs that keep customers loyal.
Operations Hub
Operations Hub is a suite of tools designed for RevOps teams that need another layer of automation. It lets you do clever things like scheduling regular data cleanses, integrating third party databases so that you can automatically enrich contact data when someone fills out a web form, or inject custom code into HubSpot's workflows so that you schedule automatic licence renewals for your clients.
It's pretty geeky stuff, all things considered, but it can be immensely powerful in the right hands and it's definitely key to scaling larger businesses who're struggling to streamline some of their more repetitive processes.
Do we think it's useful for most B2B clients? Probably not, but it's good to know that the functionality is there if you need it.


---

What Can HubSpot Do For Me


It's probably better to ask what HubSpot can't do. After years of near-constant iteration, HubSpot has become the swiss army knife of cloud-based marketing software; offering a finely-tuned solution to the overwhelming majority of day-to-day problems.
It gives you visibility, removes the need to log into multiple different tools and automates a lot of busy work. It also allows you to do the job of several people and improves communication between essential teams which is why we find ourselves recommending it to the overwhelming majority of our B2B clients.

If you're still on the fence, it might be worth looking at case studies. HubSpot's own marketing can seem a bit aggressive and over the top at times, but drilling down into third-party accounts of the ecosystem's power makes it clear that B2C and B2B firms can scale incredibly fast once they've got to grips with HubSpot tools.
Some people even report a 300% increase in leads after one year or - in the case of one global B2B technology firm - a 5,443% increase in sales opportunities. (Source: Digitopia)That said, HubSpot can be hard work. If you're not in the habit of using it - or you're not using its features to the fullest - you'll probably find that you spend a lot of time digging through menus in a vain attempt to track down important features or figure out some of the more complex automation so it's really a question of how much time you've got to spend learning the platform and using its tools.


---

Should I Be
Using HubSpot?


The answer to this question depends on a couple of things: Do you have the man-power, drive and ambition needed to leverage the platform to its full extent, and are you prepared to invest in the fine-tuning needed to really make it sing?

Hand on heart, we think HubSpot is a good fit for the overwhelming majority of modern businesses. Most of our clients are niche B2B service providers operating in the engineering, oil and gas industries and we still think that it can deliver real value in these areas. In fact, we think it's a pretty industry and niche agnostic bit of kit when you really take a look at what it's delivering.Every marketing manager needs visibility of their sales pipeline and their customer journeys. Every C-Suite executive needs to know whether their company website is attracting decent amounts of traffic and every PPC or SEO manager needs to know whether their campaigns are delivering value.
But HubSpot isn't a 'set and forget' tool, so if you don't think you'll actually use it, you're probably better off saving your money. And there you have it, you no longer have to as the question, what does HubSpot do? You're now fully up to speed. But perhaps you're still looking for help with implementation? No problem, read on.


---

Do I Need To Employ
A HubSpot Partner Agency?
We've covered this topic in more detail before, but we think there are a couple of big advantages to working with a certified HubSpot partner agency. Firstly, agencies like ours have the expertise needed to tweak and refine your HubSpot install so that it works with your pre-existing processes.

We can help you to integrate HubSpot with your pre-existing time tracking and project management tools, build sales pipelines that reflect the way you do business and set up automation that's sympathetic to the specifics of your audience.
Working with a HubSpot partner agency also means that you'll always have hands-on support if you run into issues or want to implement a big change to your marketing or sales processes.
But you can go it alone. Some companies do absolutely fine without a HubSpot specialist agency and we'd be lying if we said that it wasn't possible to master the software in-house. HubSpot provide a wealth of training materials and while the learning curve is steep, there's no reason that your internal marketing resource can't learn to tweak the software so you're getting more out of your install.
It's just a question of time and value, and those factors are always best-assessed on a case-by-case basis.
---
If you'd like to learn more about HubSpot, or talk to someone who's well-placed to help you work out whether it's a good fit, just get in touch with a member of the Red Evolution team. We love helping businesses, we don't go in for the 'hard sell' and we make a habit of building relationships with clients that match our ethos so you'll never need to worry about pushy salesmen trying to sell you the earth.
Instead, we'll spend 15 minutes getting to know your business, talk you through the platform's capabilities and help you work out whether it's going to work for your website.