According to the HubSpot State of Inbound Report 2016, the top marketing challenge is generating traffic and leads, with 65% of companies putting this challenge well above other common issues like securing budget, managing websites and hiring talent.
As an Inbound Marketing, or Lead Generation agency, this comes as no surprise to us. Most of our enquiries are from people who want more traffic or want more leads (or mostly both).
What's the Priority?
When we take on a project like this, we normally spend time analysing the current situation and looking at where the main issues lie so that we can decide which activities will have the most impact. So, the first thing to look at is if you are getting enquiries from your website. Check out the means of getting in touch with you (phone, email, contact form, live chat) and find out how many people are contacting you through them. Also check if those numbers are going up or down over time. If those numbers are too low, or heading in the wrong direction, check out the number of visitors to your site every day/week/month. That way you can figure out if the lack of leads is due to low numbers of visitors or low conversion and tackle the root cause first. It varies considerably by industry, source and other factors but as a very rough rule of thumb, a 5% conversion rate of visitors to leads is around average.
How Much is Enough?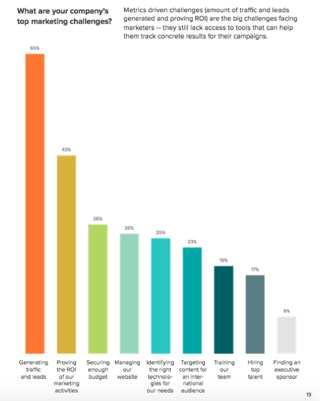 We will also gain a thorough understanding of your business to find out how many leads you actually need, and how many visitors you need in order to get them. While it's not an exact science, our lead generation calculator is a good place to start. With a few basic numbers you can discover how many enquiries your website has to generate to help you hit your sales targets.
Traffic Jam
Not always, but usually, you will find that a website needs more visitors. Until people find your site they can't engage with your business or buy anything from you. If you're not getting much traffic it's like being invisible. So you need to look at ways to make sure your site is found, and this starts with search engines. I'm not going to go into detail here as we have plenty of information about Search Engine Optimisation elsewhere on the site, but the key is creating plenty of useful content on your site. Armed with some keyword research and buyer personas, you can create an effective content plan to boost your site's authority - and make it more visible - in order to attract more traffic.
Social Whirl
Alongside great content, using social media to attract attention can be a great way to drive visitors to your site. Content marketing takes time, but you can hurry things along with an active social media presence on those networks that your potential customers use.
If you're getting impatient, pay-per-click advertising like Google Adwords or Facebook ads can speed up the process too.
Wot, No Leads?
If you've got reasonable levels of traffic but still no leads, there's work to be done on your website itself to find out why it's not engaging your visitors and converting them into leads. Use your analytics to figure out how visitors are using your site, where the heaviest traffic is, which pages do and don't work. And remember to pay attention to those buyer personas we mentioned earlier. Then start making changes to capture the attention of your visitors, based on the type of information they need. Try an inbound marketing approach - offering something relevant and valuable in exchange for their contact details - and experiment as much as possible to find what is going to be most effective.
Regardless of how great your website is, you are always likely to want more visitors and more leads if you want to grow your business. There is no magic wand, but if you figure out where the main problem is, and try following some common sense steps, you are likely to start moving in the right direction.