You've decided to invest in HubSpot. Congratulations! Good decision. HubSpot is a great system and, used properly, can really help your business.
However, you may still be slightly nervous about it as it's not cheap and there is a lot to get your head around. Tempting as it is to start playing around with the system, just hold fire.
Before you do anything else, you will be told you need to go through the HubSpot Onboarding Process. Sounds painful? It shouldn't be if you get the right help.
First, let's explain what HubSpot Onboarding is.
---
What Is The
HubSpot Onboarding Process?
HubSpot Onboarding describes the process of getting the software set up and ready for you to use.
Because HubSpot's stance on onboarding is that they customise it to your business goals, it is difficult to pin down exactly what is involved. Things are further complicated by the choice of using HubSpot's internal team of onboarding professionals or choosing to work with a HubSpot onboarding partner. It goes a bit like this:
HubSpot "You need to pay for onboarding"
Customer "Do I have to"
HubSpot "Yes"
Customer "How much does it cost?"
HubSpot "that depends what you need"
Customer "give me a clue"
HubSpot " well, the website says £2,450 but it will probably be cheaper if you use an agency"
They will then arrange for you to speak to one of their partner agencies to figure out what you need and get a quote. They seem to prefer that option, and to be frank, so do clients, as they get a lot more hands-on help from an agency. HubSpot's in-house onboarding service mainly consists of guidance which is fine if you have the capacity, the inclination and the skills to do it yourself. Most agencies, on the other hand, will roll their sleeves up and start doing the set-up for you.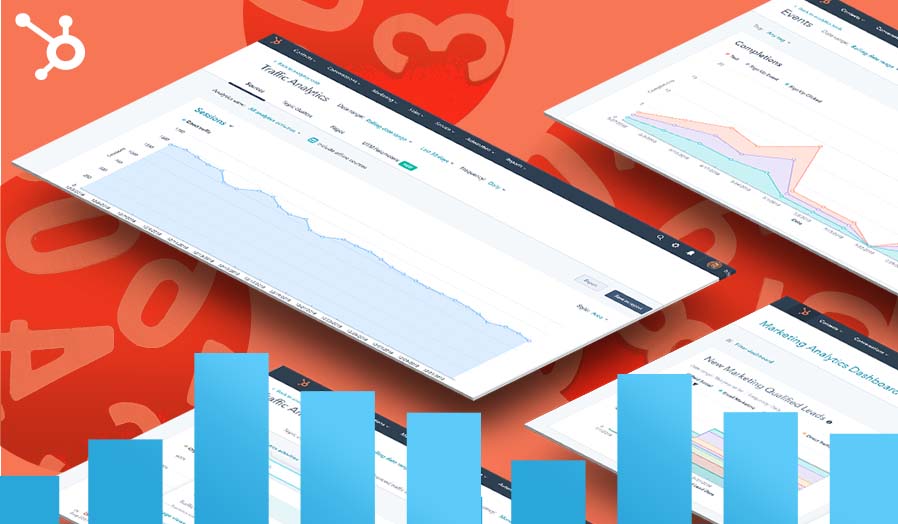 However, in the meantime, clients tend to become very confused about what they need, and what is/is not likely to be included. That's because every onboarding is different depending on what the client needs from HubSpot and what their priorities are but it is confusing not to have a set procedure to follow.
---
What's
Included?
If you look at the HubSpot-created template called Guided Client Onboarding 3.0 which is designed to "facilitate agencies to guide their channel clients through the onboarding process with HubSpot" it has 116 items on it!
In an attempt to simplify this explanation, a typical onboarding for a client using the Marketing Hub would include most of the following.
Import contacts
Add tracking code
Connect domains and set up email sending
Create templates for emails and landing pages
Replace forms on website with HubSpot forms
Create CTAs
Set up basic lists
Ad integration
Connect social media
Define MQLs and Opportunities
Define lifecycle stages
Create buyer personas
Set up lead scoring
Assign leads automatically
Segment contacts
Create initial workflows
Customise deal pipelines
Automate tasks
Set up first campaign
Create Reports
That's a lot, and it's unlikely that you'd need it all at the start but it explains why it's difficult to give a definitive answer.
So let's walk through a typical onboarding process in more detail for a client using HubSpot Marketing Hub Professional.

Typical Onboarding Process for
Marketing Hub
HubSpot CRM
The foundation of any marketing system is the CRM. That's where you store all your contact information. You will probably already have a CRM of some description, or at the very least, a spreadsheet or database of customer records. Depending on the system, it may be impossible to integrate it directly or you may have to export the data so that it can be uploaded to HubSpot. Your onboarding team will do the rest.
Three things to look out for:
How many marketing contacts are included in your HubSpot package? You normally get 2,000 as standard. If you are regularly emailing more than 2,000 people then you'll need to purchase more, or try to negotiate a higher number. While technically you can store up to fifteen million contacts in the CRM, you can only send marketing messages to 2,000 of them in any given month.
How clean is your data? There is absolutely no point in importing out-of-date or untidy data into your nice shiny new HubSpot CRM. Cleanse it first to ger rid of duplicates, out-of-date contacts or data that is incorrect. If an agency tries to transfer your data and it is all over the place, (for example city in the country field or middle names in the surname field) you'll either have to pay them to sort it out or you'll have to start again.
Don't forget the unsubscribers. If someone has unsubscribed from your list, you'll need to import them into your new CRM as an opt-out list to make sure that you don't accidentally add them back in and email them.
Tracking Code
Your web developers will need to add the HubSpot tracking code to your website so that you can gather data about website visits and analyse it in HubSpot. One of my favourite features is that once a contact completes a form on your website you can see how they first found you and all the pages they have interacted with.
Forms
Ideally you'll want to replace all the forms on your website with HubSpot forms. Your onboarding team will create new forms as required and can either provide you with them ready to embed or with the basic html code for your developers to use with your existing styling rules. Once that's done, your new enquiries will appear in your HubSpot CRM automatically which can save a lot of manual inputting.
You can also choose who gets notified by email when a form is completed. Any email address that is going to receive submission notifications will need to belong to a verified HubSpot user.
Lists
Within the CRM you can set up static and active lists.
Static lists are created using specific criteria at a fixed point in time, such as a list of people who attended an event. It won't change.
Active lists keep themselves up to date as your contacts start or stop meeting the criteria. So you can have a list of everyone who filled in a certain form after a certain date (for example) and new people will be added to the list automatically when they complete the form.
Lists are important for email communication, amongst other things, so that you can be really targeted with your messages. Your onboarding partner will discuss your business with you so that they can help you get the most important lists set up at the start.

Lifecycle
A contact property that is widely used in HubSpot, Lifecycle stage describes the way a contact moves through the buying journey. The standard stages are:
Subscriber
Lead
Marketing Qualified Lead
Sales Qualified Lead
Opportunity
Customer
Evangelist
As of 2022 you can now edit these and add your own stages if they don't fit your business model.
Landing Pages
If you plan to use landing pages for advertising campaigns or offers you can ask your onboarding team to design and set up a template so that you can very quickly and easily create new landing pages whenever you need them. This also applies to thank you pages.
Files
If you have any downloadable files on your website (white papers, ebooks, technical spec sheets) you can upload them into HubSpot and make them directly accessible via HubSpot landing pages.
Domain & Emails
You'll need to connect your domains to HubSpot including your email so that you can send and receive email through HubSpot. That involves updating the DNS records for your email sending domain in your DNS provider
Don't worry if you can't do this, there will be someone in your company who has access to the DNS provider so you just need to ask them nicely to update the CNAME records.
Once you're all hooked up, you'll need at least one email template so you can start drafting and sending emails. Depending on your plans, you may just want a plain email template with your details in the footer (you need this by law) or you might want a more visually appealing newsletter template.
Automation
You'll probably want to set up one or more workflows to automatically follow up your contacts, when, for example, they submit a form. It's relatively easy to create a workflow in HubSpot but you might want to ask your onboarding partner to set up the first one for you so that you have something to follow.
There are all sorts of automation options and some companies make really good use of them to reduce the amount of repetitive manual work needed, particularly if you receive a lot of enquiries. However, be careful not to have too many people involved in setting up workflows as you could end up with conflicting workflows.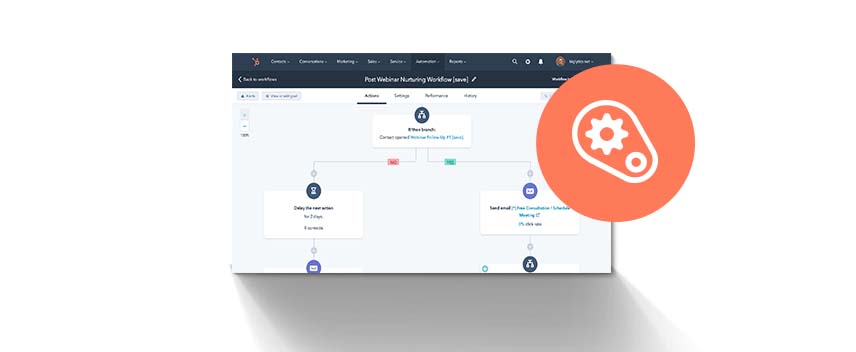 Ads
This is really something that you need to do yourself as you have the logins to your advertising accounts, but ask your onboarding partner to point you in the right direction. You can integrate Google ads, Facebook and LinkedIn ads and manage them all from within HubSpot. The added benefit is that you can see exactly how many of your contacts came from each ad campaign, and which contacts they are giving you a really effective way to measure the ROI.
Social Media
Hook up all your social media accounts and you can draft and schedule posts to them all from within HubSpot, Again, you are best placed to do the connecting as you will have all the logins, but your partner can show you what to do. Rest assured that it is very easy and quick - in nearly every case it just works right away.
You can post to LinkedIn, Twitter, Facebook and Instagram - posts only, not stories or reels, and you can connect personal and company accounts. You can also set up monitoring and alerts and analyse your engagement.
Buyer Personas
You no doubt have a fairly clear idea of your target audience, and using HubSpot's persona template you can add detailed descriptions of each of your ideal customer personas to help with segmentation of your contacts and guide your marketing communications.
Helping to research and establish who your ideal customers are would not be part of a standard onboarding, but your partner should be able to keep you right if you need advice. HubSpot's free persona tool is also a great asset to use
Lead Scoring
A useful feature, built into Hubspot Marketing Hub, the HubSpot score lets you attach scores to various properties, such as persona, company size, turnover and anything else you think might help qualify the potential of a lead.
You can use the score to qualify leads as they come into the CRM, so you can identify really important leads that need a very personalised approach, or low value leads that might get an initial automated response.
Don't rely on it in isolation though, do check your leads as it is not always accurate in terms of the company data it uses for scores.
Deal Pipeline
Although the deals section is part of the Sales Hub, it is also available to Marketing Hub users, and even if you don't have a sales team as such, it's a great way to keep track of the progress of your leads. By customising the deal stages you can make it easy to use and reflective of the way you do business.
You can set up different pipelines if you have separate service lines that have their own individual sales processes
Integrations
One of the great aspects of HubSpot is how easily it integrates with other software. Any integrations we have tried have just worked. It literally takes 5 minutes to set most of them up.
If the integration you want doesn't already exist, it's often possible to use Zapier as the go-between. Your partner agency should be able to help you configure your zaps.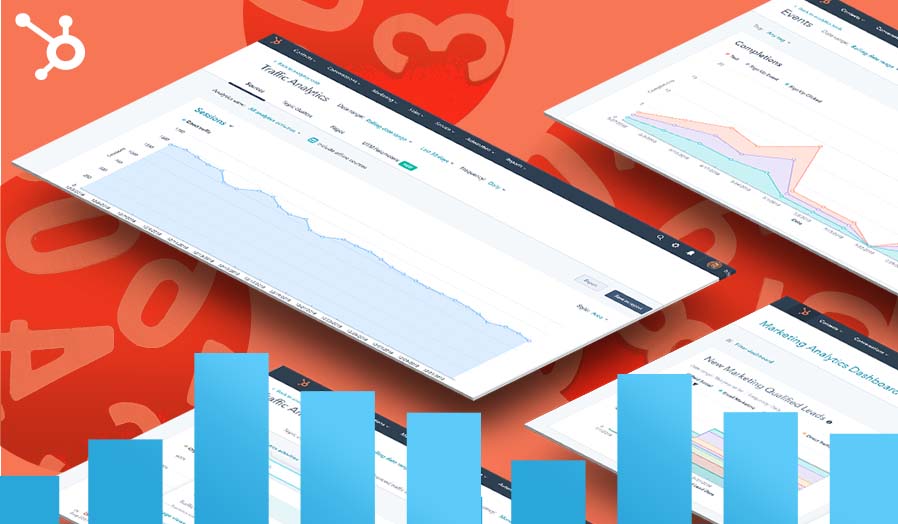 Reports
The reporting in HubSpot is a very powerful feature and it's a good idea to familarise yourself with the reports you need most often and set up a customised dashboard where you can see your top reports at a glance.
As well as a wide selection of standard reports, there is the option to create custom reports for your own requirements, so you can break down the data by any criteria you choose.
---
HubSpot
CMS
It's a completely separate part of HubSpot, but it's certainly worth considering building/rebuilding your website in HubSpot's content management system, particularly if you have a marketing team who want to be hands-on with adding content and setting up campaigns.
Onboarding doesn't normally involve the CMS but if it's on your radar, make sure you choose an onboarding partner who is experienced in HubSpot website development to ensure the whole process is seamless.
---
How To Manage
The Onboarding Process
If you look in your HubSpot portal, under your profile, you'll find an item called projects.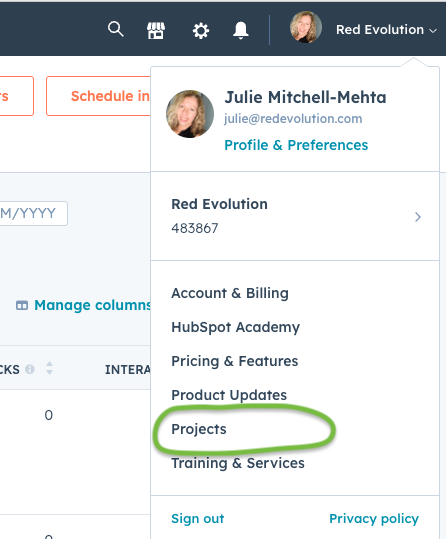 In that section are various templates for onboarding which your partner can modify, or they can create a new one. A project gives everyone with Hubspot access visibility of the onboarding progress and the ability to assign tasks to different team members.
Work with your partner to create an onboarding plan that suits your business. Not all the tasks will be needed at the start and there will inevitably be additional items that are unique to your working practices. Giving your partner as much information as possible about your company and your marketing objectives will enable them to tailor the process so that HubSpot is easy for your team to use from day 1.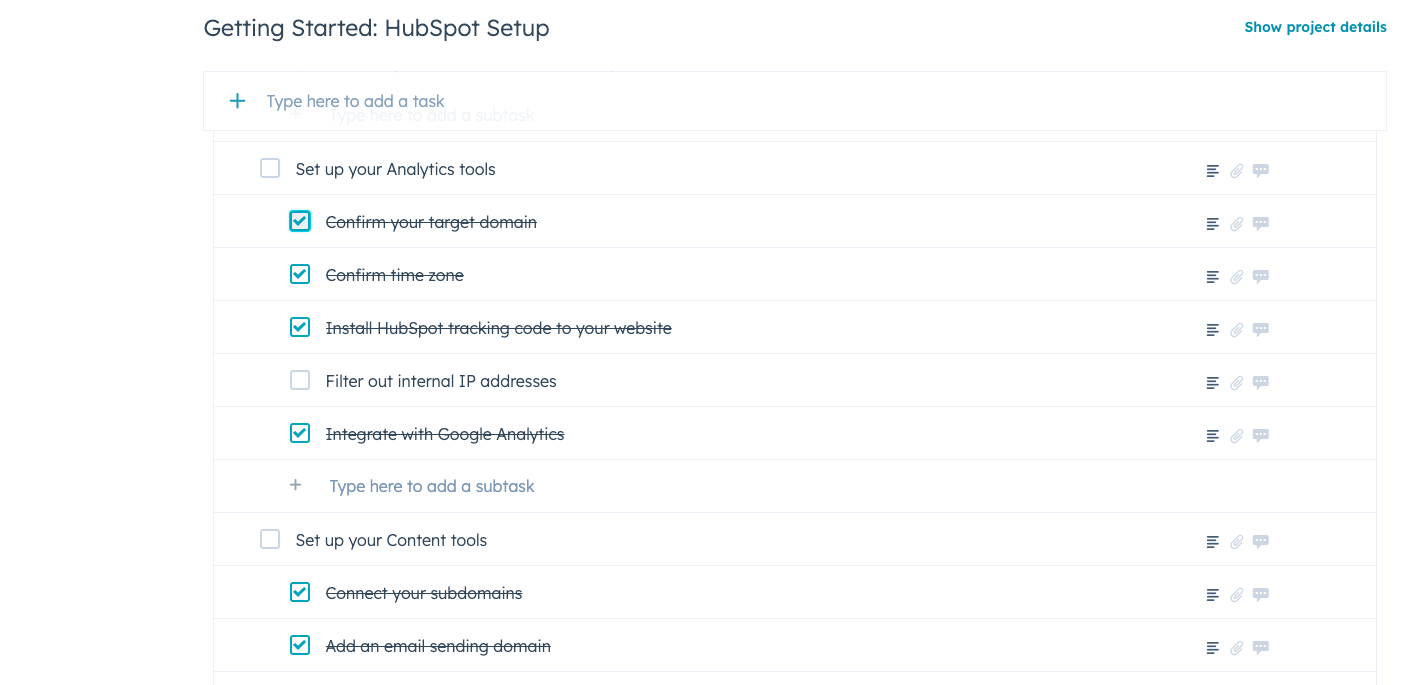 As a bonus it has a very satisfying way of crossing off tasks once they are complete!
---
Why Do You Need
HubSpot Onboarding?
The simple answer is: because HubSpot make you! But to be fair, they are right to insist on every client going through an onboarding process of some description.
While HubSpot is ridiculously easy to use, there are a lot of moving parts and it can be daunting at the start. The last thing anyone needs is to pay a lot of money for a fantastic piece of software and then put off using it because they don't know what to do first.
The other side of that coin is that some team members may leap in and start using HubSpot in their own way without a co-ordinated plan or any procedures to ensure consistency. Believe me, that is the shortest route to disaster city. Once it's in a big muddle it is extremely difficult, time-consuming (and expensive) to sort it out. Much better to get it right from the start, define roles and get a structure in place so that everyone is using it in the same way.
It's a big investment, so you do want to use it to its full potential. A thorough, step-by-step onboarding will help you get everything set up in the right order so that it works the way you want it to.
---
Why Use A

Partner Agency
We'll go into more detail in a separate blog post, but unless you are already very familiar with HubSpot, it usually makes more sense to use an agency. HubSpot offer basic onboarding services, but you'll have to do a fair bit of the work yourself. They recommend setting aside 8-10 hours a week during your designated onboarding period. The HubSpot offering is described as providing guidance, recommendations, and learning, but not actual hands-on support or help with execution.
Working with a partner gives you the opportunity to customise the process, set your own priorities, and be as hands-on or hands-off as you want. They will take care of the physical implementation for you, and you'll be able to learn from your partner as you proceed, and ask them to demonstrate how they have set up the various sections and train you how to use it in future. Onboarding tends to go faster with a partner too, as you can work together to agree suitable deadlines.
How Much Does
Onboarding Cost?
If you have Marketing Hub Professional and use HubSpot's onboarding service the cost is fixed at £2,450. For Marketing Hub Enterprise it's £4,900. Partner agencies tend to provide onboarding at a lower cost, although the exact price will depend on the partner and on the scope of work.
There is separate onboarding pricing for the individual Hubs.
---
How to get the best out of
HubSpot Onboarding
We asked our HubSpot Partner Success Manager for some tips.
Do…
define the scope early and re-clarify often.

make your HubSpot partner aware of your tech stack as early as possible.

after agreeing on the scope and timeline, maintain and communicate frequently and clearly around the project plan: timelines, task ownership, progress, dependencies, and roadblocks.

review data mapping during every milestone.

schedule milestone meetings for Kickoff, Solution Deliverable Review, 30/60/90 Day Reviews, and Onboarding wrap-up.
Don't…
forget to agree on deliverables

import data without doing data mapping

overlook reporting needs, this will allow your partner to set up data flows accordingly.

start any training until the basic implementation is done.

wait to start your training until all the implementation is finished, regular users can help identify misalignments and data flow errors once they know the system
In summary, it's mostly about communication. Be upfront with your partners, check in regularly and let them know if anything changes. The closer you can work together, the better the outcome in the long run.

Create An
Onboarding Plan
Your onboarding partner will be responsible for creating the plan, but you will want to be involved in deciding on the sequence and setting deadlines to fit your business requirements. Normally you'll have a phased approach, based on your priorities. A fairly typical example follows:
Phase 1: Discovery
Understand requirements
Agree strategy
Set priorities
Phase 2: Technical set up
Configure domains
Add tracking code
Import contacts into CRM
Connect social media accounts and email
Phase 3: Priority set up. This could be:
Create buyer personas
Customise the CRM
Define lifecycle stages
Set up deals pipelines
Add HubSpot forms to your website to capture leads
Phase 4: Campaign set up
Create landing page/thank you page
Set up forms.
Create smart lists,
Implement workflows,
Set up email template
Write emails
Connect ad accounts
Phase 5: Training
Ensure all team members know how to use HubSpot
Agree consistent practices for adding data
Set up folders and procedures
If you're looking at HubSpot sales hub, the plan would look a little different: Phases one, two and five would be the same as for Marketing Hub but the other phases would focus on the Deals pipeline and automating your sales process to save time. For example, you can assign leads and tasks and create workflows to simplify your follow-up.

Timescales
How long should onboarding take? If you use HubSpot, their onboarding takes 30, 60 or 90 days depending on the onboarding package you have bought. With a partner there is more flexibility and it tends to move faster because you have a dedicated team working on it and you can speak to them more often. Also, because they are doing the hands-on implementation for you, and they have done it before, delays are minimised.
---
Final
Words Of Advice
Firstly, don't skip onboarding or rush through it. The more time you invest into getting HubSpot set up, the more benefit you will get from it later.
Get the whole team involved and set up processes to ensure consistency. Trust me, if you let everyone do their own thing, you'll regret it further down the line.
Communicate with your onboarding partner regularly, keep up to date with progress and let them know if anything changes
Don't try to do everything all at once. Start with your top priorities, get them embedded then move on to the next ones.
If you find yourselves in a pickle, please reach out and speak to us. We've done it all before and you can read our reviews if you want to know more.